08-OCT-2018

FOUNTAIN VALLEY, Calif.
RUEDAS ESPN SELECTS 2019 GENESIS G70 AS "BEST LUXURY SEDAN;" ESSENTIA CONCEPT NAMED "STAR OF THE SHOW" BY SOUTHERN AUTOMOTIVE MEDIA ASSOCIATION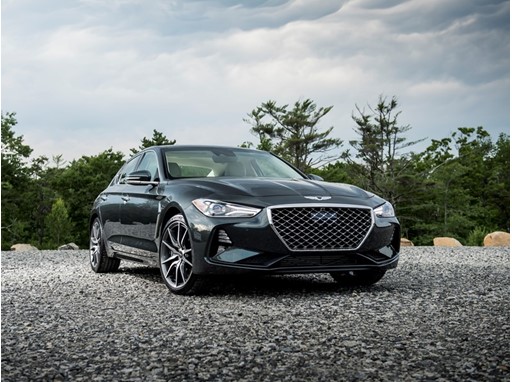 FOUNTAIN VALLEY, Calif., October 8, 2018 – The all-new 2019 Genesis G70 was awarded Ruedas ESPN's "Best Luxury Sedan." The G70 luxury sport sedan was selected by the Ruedas ESPN Executive Committee, a jury composed of industry experts.
"Receiving this award from Ruedas ESPN is further proof of the enthusiasm and excitement surrounding the launch of G70," said Erwin Raphael, Executive Director, Genesis Motor America.
Ruedas ESPN is the leading Spanish language automotive radio show in the United States, broadcast live on ESPN Deportes Radio, a network of 44 radio stations in the United States and Puerto Rico, as well as SIRIUS and XM Channel 157.
Also last week, on Friday, October 5, the Genesis Essentia concept was chosen as "Star of the Show" at the Miami International Auto Show by the Southern Automotive Media Association (SAMA): the highest honor bestowed upon a vehicle at the Miami International Auto Show. Five judges unanimously decided that the all-electric, high-performance Essentia should receive the award. This was the first time the SAMA judges have rendered a unanimous decision for "Star of the Show."
"Essentia is not only a breathtaking design, it's a breath of fresh air," said SAMA head judge Juan Gregory Robbin. "It's unlike any other concept car we've ever seen. We hope this concept becomes a reality someday."
Genesis Motor America 
Genesis Motor America, LLC is headquartered in Fountain Valley, Calif. Genesis is a global luxury automotive brand that delivers the highest standards of performance, design and innovation. A total of six new Genesis models, including the flagship full-size G90 luxury sedan, mid-luxury G80 and G80 Sport sedans and the all-new G70 entry-luxury sport sedan, will launch by 2021 and compete with the world's most renowned luxury car brands. All Genesis vehicles sold in the U.S. are covered by an industry-leading warranty with enhanced roadside assistance and concierge services. In just the first half of 2018, Genesis has won highest-ranked brand in the automotive industry awards for quality and owner satisfaction from highly-respected, third-party experts Consumer Reports, JD Power and AutoPacific.
For more information on Genesis and its new definition of luxury, please visit 
www.genesis.com
CONTACTS
Genesis Media Center

Media Inquiries

South Korea