GENESIS SHOWCASES ESSENTIA CONCEPT AT THE BUSAN INTERNATIONAL MOTOR SHOW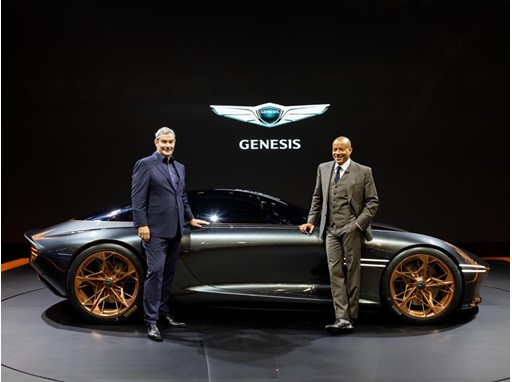 BUSAN, South Korea, June 7, 2018 – Today, Genesis showcased the Essentia Concept for the first time in South Korea at the
Busan International Motor Show
, held at the Busan Exhibition and Convention Center (BEXCO).
"Genesis is delighted to finally introduce the Essentia Concept to the Korean community at the Busan International Motor Show," said Executive Vice President Manfred Fitzgerald, Global Head of the Genesis Brand. "Essentia is the ultimate embodiment of the inspirational and emotional culture we are striving to build as a lifestyle brand, and we look forward to shaping it together with the Korean people, as this place will always be the origin and cornerstone of Genesis."
Essentia, which premiered in March at the
New York International Auto Show
and made recent appearances at the CR Fashion Book Cannes Party and Concorso d'Eleganza Villa d'Este, elevates and reimagines the Genesis "Athletic Elegance" design paradigm while providing a vision of future product performance and technology.
"The focus of designing Essentia was to resist complex, exaggerated and artificial features, and create a pure Gran Turismo (GT) concept that minimizes visual clutter and accentuates minimalist beauty," said Executive Vice President Luc Donckerwolke, Head of Genesis Design. "Genesis designers from around the world have produced an incredibly powerful statement in the Essentia, and we will continue to practice our belief of design without frontiers."
Essentia is the brand's first battery-electric vehicle. It features a lightweight, carbon-fiber monocoque, a multi-motor electric powertrain, and a custom-tailored interior. Essentia is also the Genesis brand's initial vision for a true GT car. With an estimated 0-to-100km/h time of 3.0 seconds, Essentia brings sports car-level performance to the realm of electric luxury coupes.
In addition to debuting Essentia at BEXCO, Genesis also displayed "The Ruler," one of the five inaugural G90 Special Edition flagship sedans introduced during the 90th Academy Awards in February.
All five production models, including G70, G80, G80 Sport, G90 (EQ900), and G90 (EQ900) Limousine were also on display at the 1,000㎡ Genesis standalone booth.
CONTACTS
Genesis Media Center

Media Inquiries

South Korea