GENESIS RECEIVES ADC DESIGN AWARD FROM ART DIRECTORS CLUB GERMANY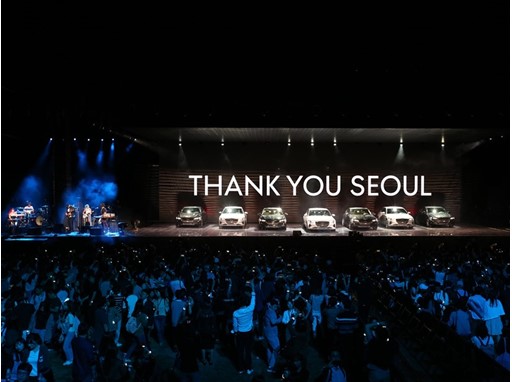 HAMBURG, GERMANY, April 26, 2018 – Genesis earned a prestigious Art Directors Club Germany (ADC) design award for "
G70 Seoul 2017
," the brand's festival launch presentation of the Genesis G70 sport sedan in Seoul, South Korea. The award recognizes the event production as one that "set new benchmarks" in branded communication and set design.
"We are extremely proud to be recognized by the Art Directors Club in Germany with the global G70 launch in 2017," said Manfred Fitzgerald, Global Head of the Genesis Brand. "It was a truly special moment for Genesis, to celebrate the brand with the Korean community at the place of its origin. It allowed us to give something back in form of a cultural event to the Korean people, having them fully embrace and take ownership of their first luxury car brand. We will continue to build culture and relationships with the global community through our brand and product."
The festival, which took place in September 2017 and was attended by more than 10,000 people, was the first event of its kind in South Korea to introduce an all-new model outside of an auto show setting. The roster of performers included Gwen Stefani, Andra Day and CL on one stage.
According to the deciding jury, "The minimalistic set design lays a new milestone in the category of world premieres for the automotive industry." The award-winning, minimalistic design concept, which featured motion design that played across high-resolution LED surfaces that covered the ceiling, floor, and back wall, was devised by brand experience agency, Blackspace.
Founded in 1964, ADC Germany awards Nail prizes annually in 36 categories for the best work in communication and design. This is the first year that Genesis has been awarded a Nail.
CONTACTS
Genesis Media Center

Media Inquiries

South Korea