GENESIS INTRODUCES REDESIGNED G90 FLAGSHIP SEDAN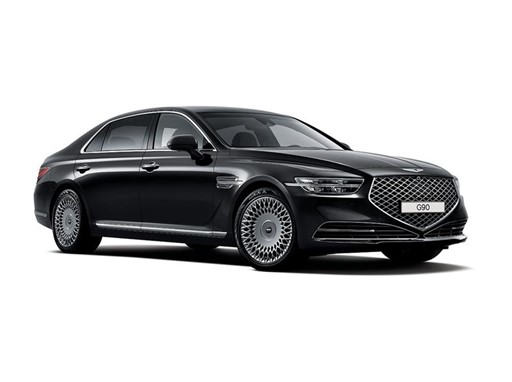 SEOUL, South Korea, November 27, 2018 – Today, Genesis unveiled the redesigned, G90 luxury sedan to media at the Shilla Hotel in Seoul.
"We are proud and excited to introduce the newly designed G90 at the origins of Genesis," said Manfred Fitzgerald, Executive Vice President and Global Head of the Genesis Brand. "G90 is not just the flagship of Genesis, but the premium automotive flagship of Korea, and it will continue to spearhead our global brand identity."
The G90 moniker replaces the Korean-market EQ900, as Genesis continues to strengthen its global brand identity while introducing three more SUVs by 2021. Under this solidified naming strategy, G90 will enter additional markets beginning next year.
Evolution of Athletic Elegance
The G90 incorporates new-car-level design changes on the exterior and interior, further enhancing its presence as the brand's flagship sedan through the theme of Horizontal Architecture.
"G90 is the ultimate expression of the Genesis brand," said Luc Donckerwolke, Executive Vice President and Chief Design Officer of Hyundai Motor Group. "Before the first sketch was even drawn, my team of designers thought carefully about how to evolve its styling and create something even more elegant and harmonic."
Front and back, the styling of the redesigned G90 evolves the brand's Athletic Elegance design language. In front, the signature Crest Grille is flanked by Quad Lamps. In the rear, Quad Lamps symbolizing the wings of the Genesis logo wrap around from corner to corner. The license plate is placed as low as possible, further accentuating a low and wide stance. The elongated, horizontal side profile of G90 is characterized by vigor and dignity.
G-Matrix, another Genesis design hallmark, inspired by light reflecting from an illuminating diamond, is applied to the headlights and taillights to emphasize refined proportions and balanced architecture. For the first time, the G-Matrix pattern is applied to the optional, 19-inch wheels, which also feature sound absorption technology to noticeably reduce tire noise.
 "When we tackled the challenge of reinventing G90, the Genesis flagship, we decided to start with designing light rather than form and shapes," Donckerwolke said.
The interior design is dominated by a harmonious, flow of horizontal surfaces including a parallel layout which includes air ventilation system, and audio controls which are reduced to maximize simplicity and a more intuitive user experience.
The G90 offers nine exterior colors, including two new colors: Porto Red and Gold Coast Silver. Seven returning hues are Marble White, Platinum Silver, Graceful Gray, Carbon Metal, Umber Brown, Royal Blue and Titanium Black.
There are two new, two-tone color and trim combinations: Brown and Brown/Blue.
Connectivity, Emotion, Serenity
The G90 introduces multiple technology firsts for the Genesis brand, as befitting a flagship. It is the first Genesis vehicle to offer over-the-air wireless updates for maps and software. The 12.3-inch display navigation system is re-engineered to incorporate a copper Graphic User Interface(GUI), allowing users to zoom in and out of the touchscreen. The split screens are highlighted with signature copper accents.
Further enhancing the technological capabilities of G90 are standard Kakao I, Apple CarPlay, Android Auto, and Mirror Link. Intelligent Car Management Service personalizes the driving experience by using data to analyze driving patterns and informs the driver of necessary maintenance and vehicle wear.
The interior environment is more serene, thanks to Active Noise Cancellation (ANC), which reduces noise, vibration and harshness using leading audio technology to reduce unwanted noise intrusion. Occupant convenience is enhanced by when entering tunnels through automatic external air prevention. The adaptive control suspension minimizes vibration in real time.
The Genesis Adaptive Control Suspension with electronic damping control smoothly and precisely manages body motions throughout the range of dynamics with minimal compromises to ride comfort.
Automatic external air prevention adjusts to recirculation mode when G90 senses a polluted environment or enters a tunnel. The adaptive control suspension minimizes vibration in real time.
Safety
Safety is not an option on the G90, which offers an unparalleled level of active and passive safety systems:
Lane Follow Assist (LFA) expands the reach of lane-keep and lane-departure assists, with the ability to stay centered in a lane and provide steering assistance.
Rear Cross-traffic Collision-Avoidance Assist (RCCA) uses rear side radar to detect and prevent impact with obstacles.
Forward Collision-Avoidance Assist (FCA) can now detect bicycles and vehicles approaching from the opposite side of the road.
Safe Exit Assist (SEA) alerts driver and passengers with alerts and cluster pop-ups when an object is approaching an opening door.
The G90 also includes 10 standard airbags, including a passenger-side knee airbag.
CONTACTS
Genesis Media Center

Media Inquiries

South Korea