GENESIS G90 DECLARED MOST LOVED LUXURY CAR IN STRATEGIC VISION STUDY; BRAND RATED SECOND OVERALL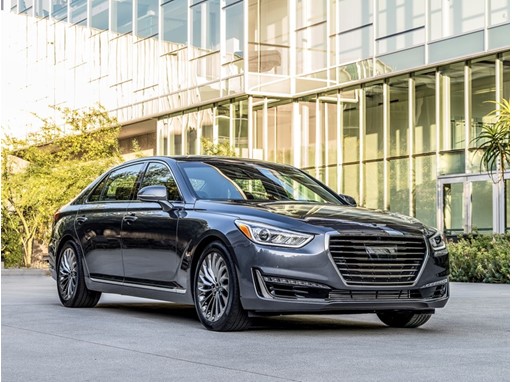 FOUNTAIN VALLEY, Calif., Dec. 6, 2017 – The Genesis G90 was named the Most Loved Luxury Car of 2017 in Strategic Vision's annual New Vehicle Experience Study (NVES). The Genesis brand finished second among luxury makes -- most of them long-established industry icons.
The annual study surveyed more than 34,000 new vehicle owners after 90 days of ownership on topics that included performance, luxury and value. The award is based on the Customer Love Index (CLI), derived from the NVES.
"The G90 earned the Most Loved Luxury Car award by offering a vehicle that competes very well in the important Luxury Car segment. G90 owners love most everything about the vehicle itself, ranging from the interior roominess and seating comfort to sound system performance and overall riding comfort," said Alex Hare, Vice President, Market Research, Strategic Vision. "Combined with a high level of standard equipment backed by a strong warranty, the G90 represents a compelling overall value, particularly in the luxury segment, all of which makes the G90 both a smart choice to purchase and an exciting vehicle to own."
"Our tenets mean a lot to this brand," said Erwin Raphael, General Manager of Genesis Motor America. "Our products, their attributes and the way we deliver them to clients reflect the love that our team has for our customers. Third-party recognition, this time directly from our customers as conveyed through renowned Strategic Vision, reaffirms that we are on the right path."
Genesis Motor America
Genesis Motor America, headquartered in Fountain Valley, Calif., distributes, markets and services Genesis vehicles in the United States. Genesis is a global luxury automotive brand that delivers the highest standards of performance, design and innovation. A total of six new Genesis models will launch by 2021 and will compete with the world's most renowned luxury car brands. All Genesis vehicles sold in the U.S. are covered by an industry-leading warranty with enhanced roadside assistance and concierge services.
For more information on Genesis and its new definition of luxury, please visit
www.genesis.com
CONTACTS
Genesis Media Center

Media Inquiries

South Korea