GENESIS G80 WINS ALG'S 2018 RESIDUAL VALUE AWARD IN COMPETITIVE PREMIUM FULLSIZE SEGMENT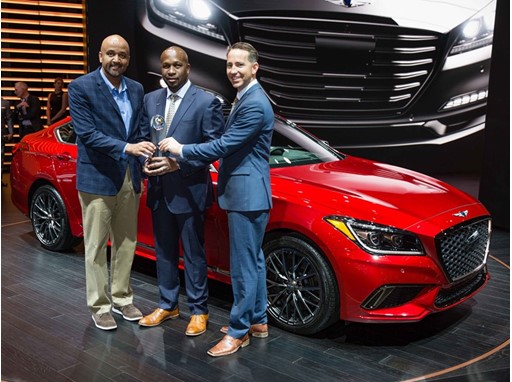 FOUNTAIN VALLEY, Calif., Nov. 30, 2017 – The Genesis G80 was rated the winning Premium Fullsize car in ALG's 2018 Residual Value Awards (RVA). The award, a first for the Genesis brand, comes from ALG, the industry benchmark in forecasting future vehicle values. Winners show leading competitiveness and are predicted to hold the highest percentage of their original sale price after three years.
"Along with its balanced performance and handsome design, the Genesis G80 offers a generous list of standard features at a lower price point than that of similarly equipped luxury competitors. With the addition of the 3.3L twin turbo Sport trim to the 2018 model year, the G80 continues to garner attention and impress the crowd as it takes its first Residual Value Award for the Premium Full-size segment," said Jim Nguyen, President of ALG.
"At Genesis, we strive to give consumers exactly what they desire and, above that, some feature value they don't even know they need," said Erwin Raphael, General Manager of Genesis Motor America. "This award represents the absolute third-party experts confirming that we've hit that moving target that we're constantly going after."
Genesis Motor America
Genesis Motor America, headquartered in Fountain Valley, Calif., distributes, markets and services Genesis vehicles in the United States. Genesis is a global luxury automotive brand that delivers the highest standards of performance, design and innovation. A total of six new Genesis models will launch by 2021 and will compete with the world's most renowned luxury car brands. All Genesis vehicles sold in the U.S. are covered by an industry-leading warranty with enhanced roadside assistance and concierge services.
For more information on Genesis and its new definition of luxury, please visit
www.genesis.com
CONTACTS
Genesis Media Center

Media Inquiries

South Korea