GENESIS G70 RESETS EXPECTATIONS OF CUSTOMER-FOCUSED PERFORMANCE AND LUXURY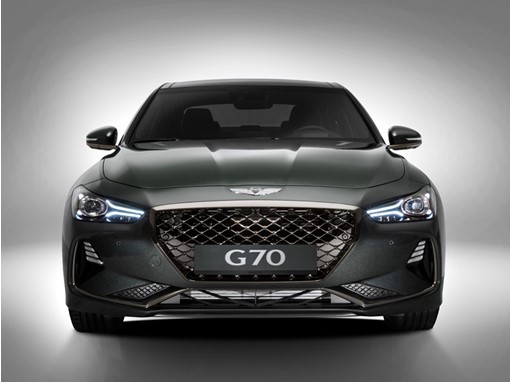 September 15, 2017 – A new era dawned today as Genesis officially presented the highly anticipated G70 luxury performance sedan at the Hyundai·Genesis Design Center in Namyang.
Dr. Woong-Chul Yang, Vice Chairman of the Hyundai Motor Group's R&D Division, key Genesis brand officials, and approximately 300 international automotive journalists participated in the activities. The G70 goes on sale in Korea on September 20th, with timing for its rollout in other markets to be announced soon.
"The Genesis G70 is the latest demonstration of our dedication to delivering innovative, customer-oriented vehicles," said Vice Chairman Yang. "We will continue to focus our R&D efforts on the development and expansion of the Genesis brand. It is a great point of pride to have Genesis showcase what a true luxury brand of Korean origin can present to our discerning customers."
The Genesis G70 is an athletic sedan characterized by its graceful and dynamic exterior styling; elegant and intuitively designed interior; choice of three different powertrains. Customers will be able to select between a turbocharged 3.3-liter gasoline V6, a 2.0-liter turbocharged gasoline I4, and a 2.2-liter I4 diesel models.
The G70 also incorporates numerous advanced driver assist systems such as Highway Driving Assist (HDA), best-in-class safety with nine standard airbags and active hood function, and a high level of connectivity with server-based voice recognition technology, using Kakao Corp's artificial intelligence platform.
Hot stamping methods and extended use of structural adhesives have been employed to enhance torsional rigidity and improve overall body stiffness.
"G70 Seoul 2017"
To commemorate this important moment, 15,000 people will celebrate the official unveiling of the G70 at "G70·Seoul 2017," a global launch festival held on September 15th in Seoul's Olympic Park.
"The launch of the Genesis G70 is an important milestone for our brand," said Manfred Fitzgerald, Head of Genesis Division. "We deliberately chose Seoul, as this is our place of origin. This is where we are coming together with our customers and friends in the music industry to celebrate as a people's festival."
"G70 Seoul 2017" is a brand celebration of Genesis and the new G70, featuring global music superstars Gwen Stefani, Andra Day and CL. While attendance is capped at 15,000, more than 80,000 people expressed interest in being part of the festivities.
Completing the Genesis sedan lineup
The G70 completes the Genesis brand's sedan lineup, along with the G90 flagship and mid-luxury G80. The arrival of G70 further strengthens the Genesis brand's presence in the global luxury market.
In November 2015, Genesis launched and set out to compete with the world's top luxury automakers as a Korean brand. To differentiate itself in the luxury segment, Genesis strives to make a positive impact in the lifestyles of its discerning customers through a progressive and innovative approach to performance and design excellence.
Genesis launched the flagship G90 sedan in December 2015, followed by the G80 sedan in July 2016 in Korea. Since the brand's inception, Genesis has sold more than 150,000 units, with strong performances in both Korea and the U.S.
Genesis has also received many accolades, most recently, ranking highest among premium automakers in the J.D. Power 2017 U.S. Initial Quality Study (IQS), topping all 13 brands in the premium segment.
The G70 marks the completion of Genesis sedan line-up and the brand will now start strengthening its lineup with SUVs and alternative powertrains. Genesis plans to roll out new products to expand its presence and coverage across the global market and six models are expected in its product portfolio by 2021.
An Exterior with Genesis' Unique Design Identity
The all-new G70 showcases the future direction of the Genesis brand's design identity.
Athletic elegance is represented in the exterior styling, as the car captures both beauty and tension, like an athlete poised to perform.
Luc Donckerwolke, Head of Genesis Design, said, "At Genesis, we shape fascination and desire with the passion, dedication and talent from our designers. We modulated all parameters from the Genesis DNA to tailor a sports sedan. This challenge required the highest skills and know-how. The G70 is designed to captivate all senses with its sensuous and tensioned muscular volumes."
The long hood and short front overhang, elegant roofline and assertive multi-spoke alloy wheels combine to form a sleek, dynamic profile, subtly highlighted by dark chrome aero trim.
The hockey stick daylight opening and parabolic sidelines further express the unique design signatures of Genesis, displaying fast and dramatic energy with voluptuous forms and smooth surfaces.
From the front and side, the G70's prominent crest-type grille, character lines extending from the hood emblem, and pronounced air intakes communicate the muscular performance that the car is capable of.
Two distinctive linear LED DRLs on each side of the large crest grille foreshadow the future Genesis signature quad lamps.
In the rear, the LED rear combination lamps continue the quad lamp theme, while the raised trunk lid and compact bumper designs give the G70 a poised character. The rear lamps, evolved from the G80, have been stretched to the end of the rear to convey a wide and dynamic stance.
A Sophisticated, Driver-Focused Interior
G70's interior is configured to prioritize an excellent user experience, with superb fit and finish throughout. The interior packaging reflects the thoughtfulness that drives the Genesis brand, with a priority on simplicity and an emphasis on genuine functionality instead of gimmickry.
A horizontal layout brings a sense of stability and the driver-focused packaging provides a comfortable driving environment, with intuitively laid out switchgear and a comfortable, assertive sport steering wheel.
Genesis designers employed premium materials throughout, including aluminum door handles, quilted leather door panels, metal speaker grills and high-quality soft touch surfaces. Nappa leather seats further add to the dynamic yet elegant interior.
The G70 offers a wide range of unique and sophisticated color options that properly reflect global trends to meet client demand.
Ten exterior colors are available: Platinum Silver, Carbon Metal, Marble White, Titanium Black, Racing Gray, Graceful Gray, Lapis Blue, Royal Blue, Blazing Red and Umber Brown.
A new paint-finishing method separates small, evenly distributed aluminum particles and high luminosity colors, maximizing the brilliance of the exterior colors.
The passenger cabin is available in five different colors: Obsidian Black, Sandstorm Gray, Velvet Burgundy, Tobacco Brown and Vanilla Beige. Two additional interior colors, which are Sports Gray and Sports Red will be dedicated to the G70 Sport and the high-end trim level for the 2.0T.
Driving Character -- Agile Yet Safe, Dynamic Yet Quiet
The G70 offers three powertrains – a 3.3-liter V6 gasoline turbo, 2.0-liter I4 gasoline turbo and a 2.2-liter I4 diesel. The 3.3-liter V6 turbo is the backbone of the enthusiast-focused "G70 Sport."
The G70 Sport is equipped with the Lambda II 3.3-liter V6 turbo GDI engine, with 370 PS and maximum torque of 52.0kgf·m.
G70 Sport is a dynamic and powerful performer with 0 to 100 kph (62.5 mph) acceleration in 4.7 seconds and a top speed of 270 kph (167/168 mph). Variable-ratio steering and electronically controlled suspension are standard to provide agile steering response and an optimal ride-and-handling experience.
The G70 2.0 turbo gasoline model is equipped with the Theta-II 2.0-liter turbo GDI engine, with 252 PS and maximum torque of 36.0kgf·m. (Sports package: 255 PS)
The G70 2.2 diesel model is equipped with the R 2.2 VGT engine with 202 PS horsepower and maximum torque of 45.0kgf·m.
Dynamic performance features include:
1. Launch Control - Maximizes power control in acceleration mode
2. Rack-mounted, motor-driven power steering (R-MDPS) and multi-link rear suspension - Provides precise handling and comfortable ride
3. Dynamic torque vectoring system - Improves vehicle cornering control
4. Mechanical limited slip differential (M-LSD) - Allows safe driving capabilities in low friction road conditions such as rain, snow and ice
The seat positions have been adjusted to lower the center of gravity of the car to maximize performance. To augment the driving experience, the Active Sound Design (ASD) system creates an aural character that reflects the engine load and driving mode settings.
Noise, vibration and harshness have been minimized in the G70 through enhancements in multiple areas including vehicle body structure; exhaust system; sound absorption and isolation; suspension and body frame connection; and the design of the side mirrors and door sealing systems.
The performance-focused sedan has been tested under the most challenging environments and surfaces in the world, including Death Valley (U.S.), northern Sweden, the Nürburgring (Germany) and the Alps (Austria) for driving stability, handling, durability and power delivery.
■ Best-in-Class Safety
Following the trend of the G90 and G80, the G70 offers the most comprehensive levels of safety in its class. Overall body stiffness and rigidity have been dramatically strengthened.
The G70 has also been designed to help protect pedestrians – when imminent impact with a pedestrian is detected, its active hood function operates by lifting the hood to absorb shock and minimize the risk of injury.
An unparalleled suite of advanced driver assist systems such as Forward Collision-Avoidance Assist (FCA), Highway Driving Assist (HDA), Blind spot Collision Warning (BCW) and Driver Awareness Warning (DAW) have been added as part of the 'Genesis Active Safety Control' to offer the highest level of safety and convenience in its class.
The FCA system provides added safety with newly developed technology designed not only to protect vehicles and pedestrians, but also cyclists on the road. It automatically activates emergency braking through integrated radar-camera sensors when detecting bicycles.
'Genesis Active Safety Control' is the brand's newly labeled advanced driver assist system package previously known as 'Genesis Smart Sense.'
Genesis aims to receive the highest ratings from both international and domestic organizations including the National Highway Traffic Safety Administration (NHTSA), Insurance Institute for Highway Safety (IIHS) and Korea New Car Assessment Program (KNCAP).
Exceptional Comfort and Convenience
The G70 incorporates a diverse range of advanced technologies that deliver ultimate convenience and connectivity.
An example includes the smart posture control system, initially introduced in the G90. When the driver's body information is input, the system automatically adjusts the seat, steering wheel, outside mirror and heads-up display to the optimal position, ensuring minimal stress even on long journeys.
The G70 provides a diverse range of advanced convenience and connectivity, including an 8-inch touch screen display supporting MirrorLink, Apple CarPlay and Android Auto.
The G70 will also be the first vehicle in Korea to feature server-based voice recognition technology, using Kakao's artificial intelligence platform 'Kakao I.'
For the best audio performance, a 15-speaker Lexicon surround-sound system is available to provide an audiophile-level acoustic experience.
Overseas product specifications in markets including North America, Russia and the Middle East are planned to be announced in early 2018.
※ Note: All specifications are based on Korean market models
About Genesis
Genesis, the luxury automotive brand, strives to make a positive difference in the lives of discerning customers, thus becoming an important element of their lifestyle. As a design-focused brand, Genesis has introduced fascinating models that embody athletic elegance, starting from the brand's flagship model G90, mid-size luxury sedan G80 and its derivative G80 Sport. The G70 sedan made its world debut in September 2017, completing the brand's sedan lineup. Genesis will be opening dedicated brand stores in major cities in the near future. Experience more at
https://www.genesis.com
.
Appendix. 'Genesis G70'Specifications
| | |
| --- | --- |
| Category |  Genesis G70 |
| Length (mm) | 4,685 |
| Width (mm) | 1,850 |
| Height (mm) | 1,400 |
| Wheelbase (mm) | 2,835 |
| | | | |
| --- | --- | --- | --- |
| Engine Type | Lambda II 3.3 T-GDI | Theta II 2.0 T-GDI | R-FR 2.2 VGT |
Drive Configuration
RWD
AWD
RWD
AWD
RWD
AWD

Fuel Economy (km/ℓ)

9.0(19")
8.6(19")
10.7(18")
10.4(19")
10.0(18")
9.5(19")

15.2(17")

14.5(18")
13.5(18")
Displacement
(cc)
3,342
1,998 
2,199
Max Power
(ps)
370

252

(Sports Package: 255)

202
Max Torque
(kg·m)
52.0
36.0
45.0
CONTACTS
Genesis Media Center

Media Inquiries

South Korea