GENESIS G70 HAS MIDDLE EAST DEBUT AT DUBAI MOTOR SHOW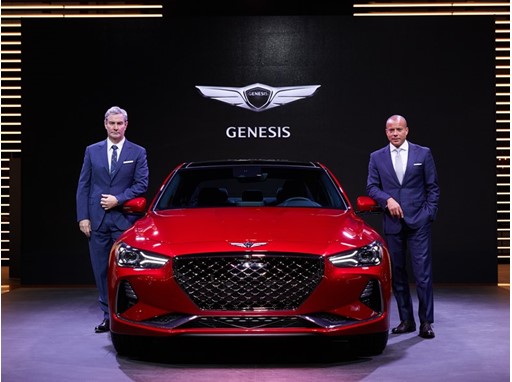 Compact model completes three-car sedan range
Dynamic styling is matched by sophisticated comfort
Advanced technology for safety and convenience
Refined performance through 3.3 Turbo engine with 370 PS
Middle-East sales are expected early 2018
November 14, 2017 – Genesis has shown its compact G70 sedan for the first time in the Middle East, with a regional unveiling at Dubai International Motor Show. 
The youngest and most dynamic model in the Genesis line-up was launched globally in September, proving once again the impeccable credentials of the world's newest luxury automotive brand, alongside the larger G80 and G90.
The Genesis G70 is an athletic sedan characterized by its graceful and dynamic exterior styling, elegant and intuitively designed interior, and choice of two different powertrains: turbocharged 3.3-liter gasoline V6 and 2.0-liter turbocharged gasoline I4.
"The arrival of the G70 is a landmark moment for Genesis, taking our name into one of the most fiercely competitive categories within the luxury automotive market," said Manfred Fitzgerald, Head of Genesis. "We are quickly earning positive recognition in the Middle East, which is a very important region for luxury brands. We promise our customers excellence, and our path to success is to make very sure that every new Genesis model delivers on that promise."
Designed with a Fine Sense of the Aesthetic
The all-new G70 showcases the future direction of the Genesis brand's design identity. Athletic elegance is represented in the exterior styling, capturing the essence of the Genesis DNA to bring to reality a superbly crafted sports sedan.
The long hood and short front overhang, elegant roofline and assertive multi-spoke alloy wheels combine to form a sleek, dynamic profile, subtly highlighted by chrome aero trim, hockey stick daylight opening and parabolic sidelines.
From the front and side, the prominent crest-type grille, character lines extending from the hood emblem, and pronounced air intakes, communicate muscular performance. Two distinctive linear LED DRLs on each side of the large crest grille foreshadow the future Genesis signature quad lamps. 
In the rear, the LED rear combination lamps continue the quad lamp theme, while the raised trunk lid and compact bumper designs give the G70 a poised character. The rear lamps, evolved from the G80, have been stretched to convey a dynamic stance.
The G70's interior is configured to prioritize an excellent user experience, with superb fit and finish throughout. The interior packaging reflects simplicity, with an emphasis on genuine functionality instead of gimmickry. A horizontal layout brings a sense of stability, with intuitively laid out switchgear and a comfortable, assertive sport steering wheel.
A Dynamic and Agile Driving Experience
The G70 offers two powertrains in the Middle East region – a 3.3-liter V6 gasoline turbo and 2.0-liter I4 gasoline turbo. The Lambda II 3.3-liter V6 turbo GDI engine is the heart of the enthusiast-focused G70 Sport, with 370 PS and maximum torque of 510 Nm, 0 to 100 km/h acceleration in 4.7 seconds, and a top speed of 270 km/h.
Variable-ratio steering and electronically controlled suspension provide agile steering response and an optimal ride-and-handling experience.
The G70 2.0 turbo gasoline model is equipped with the Theta-II 2.0-liter turbo GDI engine, with 252 PS and maximum torque of 353 Nm.
Dynamic performance features include:
Launch Control to maximize power control in acceleration mode
Rack-mounted, motor-driven power steering (R-MDPS) and multi-link rear suspension for precise handling and comfortable ride
Dynamic torque vectoring system to improve vehicle cornering control
Mechanical limited slip differential (M-LSD) for improved handling control, power drift and traction performance.
The seat positions have been adjusted to lower the center of gravity of the car to maximize performance. To augment the driving experience, the Active Sound Design (ASD) system creates an aural character that reflects the engine load and driving mode settings. 
Best-in-Class Safety
Following the lead of the G90 and G80, the G70 offers the most comprehensive levels of safety in its class. Overall body stiffness and rigidity have been dramatically strengthened, while passengers are protected by seven airbags.
An unparalleled suite of advanced driver assist systems is integrated into the 'Genesis Active Safety Control' package to offer the highest level of safety and convenience in its class. These include Forward Collision-Avoidance Assist (FCA), Blind spot Collision Warning (BCW) and Driver Awareness Warning (DAW).
The FCA system also automatically activates emergency braking through integrated radar-camera sensors.
Exceptional Comfort and Convenience
The G70 incorporates a diverse range of advanced technologies that deliver ultimate convenience and connectivity. 
Advanced convenience and connectivity features include an 8-inch touch screen display supporting MirrorLink, Apple CarPlay and Android Auto.
For the best audio performance, a 15-speaker Lexicon surround-sound system is available to provide an audiophile-level acoustic experience.
The G70 completes the Genesis brand's sedan lineup, along with the G90 flagship and mid-luxury G80. Genesis will now start strengthening its lineup with SUVs and alternative powertrains, aiming to have six models in its product portfolio by 2021.
Overseas G70 specifications, including for the Middle East, are planned to be announced in early 2018.
CONTACTS
Genesis Media Center

Media Inquiries

South Korea