GENESIS G70 EARNS THE CANADIAN AUTOMOTIVE JURY'S 2019 "BEST OF THE BEST" AWARD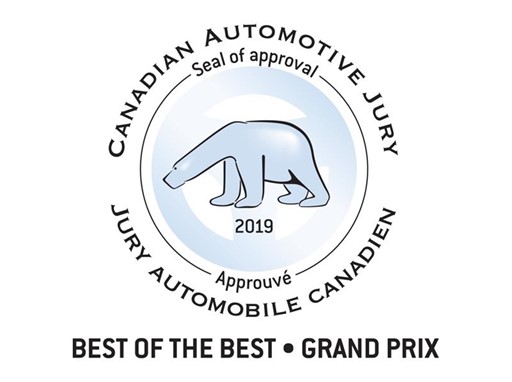 MARKHAM, Ontario (February 7, 2019) – The Genesis G70 has been recognized as the "Best of the Best" for 2019 by The Canadian Automotive Jury, adding to its impressive tally of top industry awards.
On an annual basis, this group comprised of ten prominent Canadian automotive journalists sets out to select the best vehicle from the current model year. Each vehicle is evaluated holistically to identify which represents the greatest overall achievement. The top-ranked model is selected from a group of ten finalists that automatically includes the previous year's winner.
"It was a difficult choice with so many great cars hitting the road – the list ran from the Jaguar I-Pace and Mitsubishi Outlander to the Hyundai Kona," said Graeme Fletcher. "However, the cream always rises to the top, and so it was with the Genesis G70." David Booth echoed this sentiment, adding "it's a complete package."
"The story here is primarily about road manners," concluded Jeremy Cato. "The G70 manages to do something I did not think was possible – deliver what we used to call 'German' handling and responses."
"This most recent award for G70 is particularly meaningful," said Richard Trevisan, Brand Director of Genesis Motors Canada. "The members of The Canadian Automotive Jury bring together a broad collective expertise and represent some of the top media outlets across the country. This accolade is therefore a testament to the exceptional achievements of our design and engineering teams in creating the G70."
G70 is the third of six new Genesis models to debut by 2021 and is the final sedan of the lineup. As the first Genesis model in the highly-competitive compact luxury segment, G70 outperforms legacy sport sedans with a holistic integration of leading performance, refined luxury, and athletic yet elegant style.
Genesis Motors Canada
Genesis Motors Canada is headquartered in Markham, ON and distributes, markets, and services Genesis vehicles in Canada. Genesis is an all-new global luxury automotive brand that delivers the highest standards of performance, design, and innovation. A broad range of new Genesis models will be introduced in the next three years to compete directly with the world's most renowned luxury automotive brands. All Genesis vehicles sold in Canada feature set, all-inclusive pricing,
Genesis at Home
concierge for sales and service, complimentary scheduled maintenance, an excellent comprehensive warranty, and more. Visit
www.Genesis.ca
to learn more.
The Canadian Automotive Jury
The Canadian Automotive Jury is a not-for-profit group of prominent Canadian automotive journalists pledged to the highest standards of uncompromised reporting. The Jury has a coast-to-coast reach in all forms of media including newspapers, radio, television and online. The Jury is comprised of David Booth, Benoit Charette, Jeremy Cato, Graeme Fletcher, Gabriel Gelinas, Petrina Gentile, Eric LeFrançois, Mark Hacking and Zack Spencer.
For more information, interviews and images, please contact:
Patrick Danielson
Manager, Product Strategy & Public Relations
Genesis Motors Canada
Office: (905) 948-6876
Mobile: (416) 254-3120
Email:
pdanielson@genesis.ca
CONTACTS
Genesis Media Center

Media Inquiries

South Korea