11-APR-2019

FOUNTAIN VALLEY, California
GENESIS G70 AWARDED AS A "2019 BEST NEW CAR" BY AUTOTRADER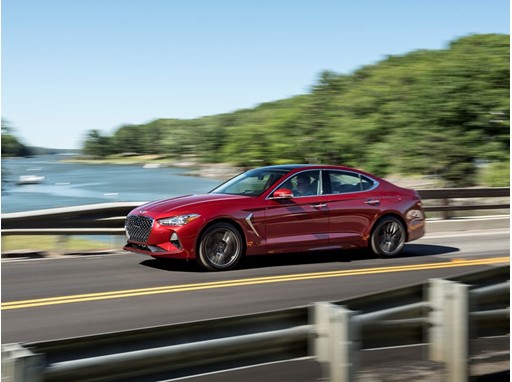 FOUNTAIN VALLEY, California, April 11, 2019 – The 2019 Genesis G70 has been named a "2019 Best New Car" by Autotrader. The award, which was agreed upon unanimously among Autotrader editors, was presented to G70 on the basis of its class-redefining merits. Conveying the stand-out attributes of G70, they noted that its interior is "a highlight that rivals cars costing tens of thousands of dollars more."
"This award is further recognition of the G70's outstanding positioning among luxury sport sedans," said Erwin Raphael, Chief Operating Officer, Genesis Motor America. We are honored for our new G70 to receive this accolade from Autotrader.".
G70 was selected by the editors of Autotrader from a list of over 300 eligible, new vehicles. Led by Editor-in-Chief Brian Moody, the team of editors spent the year testing interior comfort and materials, build quality, available features and ride quality.
"Anyone can get a European luxury sedan, in some cities, they're almost common," said Autotrader Executive Editor, Brian Moody. "The Genesis G70 takes a different path. A loaded G70 with very impressive performance will set you back about $45,000. A nicely equipped and still luxurious base model is about ten grand less than that. It's an excellent performance/luxury car for those who don't want to follow the crowd."
As the first Genesis model in the highly competitive entry luxury segment, G70 outperforms legacy luxury sport sedans with driver-focused performance. G70, which was named the 2019 North American Car of the Year, as well as receiving several other prominent awards in recent months, resets benchmarks and expectations among luxury sport sedans, with holistic integration of performance, body strength, refined luxury and aerodynamic design. Pricing starts at $34,900.
Genesis Motor America 
Genesis Motor America, LLC is headquartered in Fountain Valley, Calif. Genesis is a global luxury automotive brand that delivers the highest standards of performance, design and innovation. All Genesis vehicles sold in the U.S. are covered by an industry-leading warranty with enhanced roadside assistance and concierge services. In just the first half of 2018, Genesis has won highest-ranked brand in the automotive industry awards for quality and owner satisfaction from industry experts such as J.D. Power, AutoPacific, and Strategic Vision.
CONTACTS
Genesis Media Center

Media Inquiries

South Korea