GENESIS ARRIVES IN CHARACTER WITH TEN SPECIAL-EDITION G90 SEDANS FOR THE 2018 ACADEMY AWARDS WEEK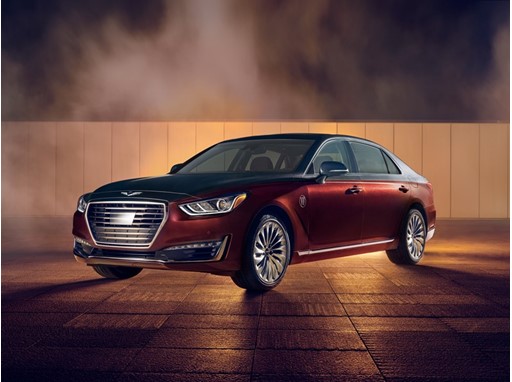 FOUNTAIN VALLEY, Calif., February 28, 2018 – This week, in the lead-up to the 90th Academy Awards, Genesis will premiere five new G90 Special Edition flagship sedans with the help of media partner, Vanity Fair. The five inaugural Special Edition cars that debuted at the 2017 Academy Awards will join the new collection during this year's Oscars weekend.
Each G90 was designed to arrive in character at the iconic Vanity Fair Oscar Party, and to serve as transportation for an award nominee or influencer.
"Genesis is a design-driven brand, and there is no better moment than the Academy Awards to connect with the entertainment community," said Senior Vice President Manfred Fitzgerald, Head of Genesis Brand. "We are thrilled to continue the tradition of tailoring the G90 to showcase our creativity."
This is the second year that Genesis has worked with Vanity Fair to create bespoke, show-stopping interpretations of the G90. This year's cadre of sedans incorporates stunning interior materials to match the signature, two-tone exterior treatment.
"The 2018 G90 collection has been designed to honor the glamour of Hollywood and break automotive color and trim boundaries," said Executive Vice President Luc Donckerwolke, Head of Genesis Design. "These special editions are just the beginning of what we can imagine for ultimate Genesis tailored luxury."
The five G90 sedans, and their design themes, that will make their red-carpet debuts at the Academy Awards will be:
A Touch of Sensuality: Finished in warm light silver and matte cocoa brown, this G90 epitomizes a cause for celebration. Brown Nubuck leather and desert sand Nappa leather interior offer a smooth embrace to the passenger
Stardust: This G90 sedan practically sparkles under the award show lights, with deep flakes of dark gray. Tuxedo-style black velvet line the cockpit.
Emerald Dream: Saturation is in the details of this G90 finished in complementary hunter green and dark brown. Inside, the Genesis logo is featured in a repeating geometric pattern in the green leather.
The Ruler: This brick-red and gray G90 demonstrates a dynamic approach to the Genesis color and trim philosophy. The red Nubuck leather interior is enhanced by free-flowing, organic patterns reminiscent of a designer's sketch.
Refined Understatement: With silver-dotted piping and a refined finish to the black Nubuck and Nappa leathers, this G90 in dark blue and matte white appends a modern and fresh point to the collection.
Following their appearance in Hollywood, the G90 Special Edition sedans will be showcased at Genesis Gangnam in the prime business district of Samsung-dong, Gangnam-Gu, Seoul, as well as at future Genesis brand events.
CONTACTS
Genesis Media Center

Media Inquiries

South Korea