G80 SPORT NAMED FINALIST IN THE 2017 INTERNATIONAL DESIGN EXCELLENCE AWARDS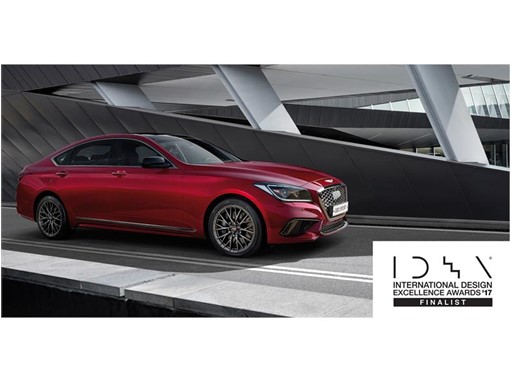 The Industrial Designers Society of America praised the G80 Sport for its elegant, powerful lines and athletic appearance
Genesis design is inspired from pure expressions of inner beauty which embody the perfect harmony between engineering and design
June 28, 2017
–
G80 Sport
was recognized as a finalist in the 2017 International Design Excellence Awards (IDEA®) by The Industrial Designers Society of America (IDSA). The organization praised the G80 Sport for its elegant, powerful lines and athletic appearance.
The Genesis G80 Sport pushes forward the modern luxury experience, breaking through convention. A focus on mindful innovation blends the needs of the driver with technological feasibility, while an emphasis on the brand's Korean heritage creates a meaningful balance between luxury and respect for the individual driving the car. The design concept is based on retaining the harmonic proportions of the G80 in combination with a more sporty side profile.
"Our brand is built on design, and the balance of beauty and functionality," said Luc Donckerwolke, Head of Genesis Design. "The G80 Sport being named a finalist in the prestigious International Design Excellence Awards is validation of those efforts. Genesis design is inspired from pure expressions of inner beauty which embody the perfect harmony between engineering and design. It's great to get support from others in the design community for something that we've put so much passion into."
The design is inspired by an athlete waiting in the start position for the starter's signal. Concise, copper-colored elements connect the exterior and the interior design. The G80 Sport also incorporates a three-spoke leather steering wheel, genuine carbon fiber interior trim, leather sport seats and unique 19-inch wheels that are just some of the exclusive design and performance features.
Underneath its attractive exterior, the G80 Sport's 3.3-liter direct-injected, twin-turbocharged V6 engine boasts 365 horsepower, and is paired with a sport-tuned eight-speed automatic transmission. Supported by an upgraded suspension system, this robust new powertrain delivers superior driving dynamics, improved ride compliance and sport agility.
IDEA® is a premier international design competition, recognizing and promoting design excellence across a wide array of industries and disciplines conducted annually by the Industrial Designers Society of America (IDSA). IDEA judging is based on the following criteria of Design Excellence: Design Innovation, Benefit to the User, Benefit to the Client, Benefit to Society and Appropriate Aesthetics.
CONTACTS
Genesis Media Center

Media Inquiries

South Korea