28-NOV-2018

LOS ANGELES, Calif.,
2019 GENESIS G70 NAMED FINALIST FOR NORTH AMERICAN CAR OF THE YEAR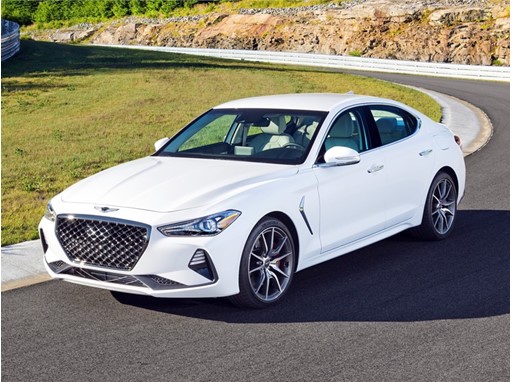 LOS ANGELES, Calif., November 28, 2018 – Today, the 2019 Genesis G70 was named a top-three finalist for 2019 North American Car of the Year (NACTOY). This is the first time that a Genesis model has been nominated to the most selective round of NACTOY judging and testing. Earlier in the year, G70 was named one of 14 semi-finalists; the winner will be announced at the North American International Auto Show this coming January.
"We are thankful to the NACTOY jurors for recognizing the inherent qualities of the G70," said Manfred Fitzgerald, Executive Vice President and Global Head of the Genesis Brand. "We are also delighted to see such a dynamic product resonate well with our clientele across the world." 
"We are humbled by the NACTOY jurors' recognition of the G70 at a very important time for Genesis in the United States," said Erwin Raphael, Executive Director of Genesis Motor America.
NACTOY jurors, composed of an independent panel of journalists and analysts based in the United States and Canada, have recognized top cars, trucks, and utility vehicles since 1994. This year's jury of 54 represents legacy newspapers and magazine experts, broadcast veterans, digital columnists, and freelancers.
The 2019 Genesis G70 luxury sport sedan resets benchmarks and expectations in its class for the holistic integration of leading performance, refined luxury, and aerodynamic style. G70 is the third of six new Genesis models to debut by 2021 and the final sedan of the lineup. As the first Genesis model in the highly competitive entry-level luxury segment, G70 outperforms legacy luxury sport sedans with driver-focused performance.
Genesis Motor America 
Genesis Motor America, LLC is headquartered in Fountain Valley, Calif. Genesis is a global luxury automotive brand that delivers the highest standards of performance, design and innovation. All Genesis vehicles sold in the U.S. are covered by an industry-leading warranty with enhanced roadside assistance and concierge services. In just the first half of 2018, Genesis has won highest-ranked brand in the automotive industry awards for quality and owner satisfaction from industry experts such as J.D. Power, AutoPacific, and Strategic Vision.
For more information on Genesis and its new definition of luxury, please visit 
www.genesis.com
.
CONTACTS
Genesis Media Center

Media Inquiries

South Korea