25-JUL-2019

SEOUL, South Korea
"GENESIS STUDIO HANAM" WINS ARCHITIZER A+ AWARD FOR ITS ARCHITECTURE + BRANDING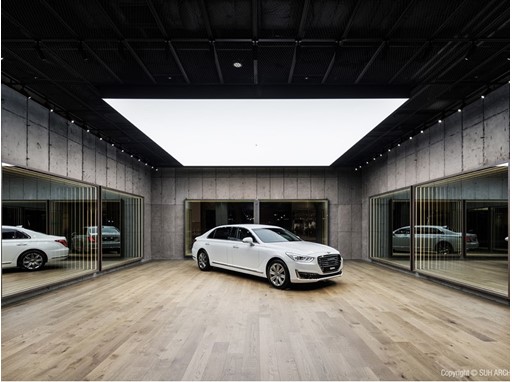 SEOUL, South Korea, July 25, 2019 – The Genesis Studio Hanam has been recognized as a "2019 Architizer A+ Award Popular Choice Winner" in the category of "Concepts - Plus - Architecture + Branding." With this award, Genesis Studio Hanam joins a cadre of forward-thinking venues and public spaces around the globe. This is the first major honor awarded by leading architects and design professionals for the initial, dedicated Genesis brand space. Genesis Studio Hanam was designed by Seoul-based Suh Architects.
"We are proud to be recognized by the Architizer A+Awards with Genesis Studio Hanam," said Eulho Suh, the principal of Suh Architects, "Utilizing light, concrete, corten steel and mirrors to contemporary and artistic effect, we tried to create a venue that would introduce not only Genesis vehicles but also the new direction of an innovative brand. Also, rather than compete with the language of automobile design, we decided to frame the Genesis as a finely-crafted object of desire, using reflection to amplify its own seductive engineering"
"The Genesis Studio Hanam raises curiosity about our brand and embodies Genesis and its core characteristics, and we are very proud to be recognized for the brand's first dedicated brand space among the world's best," said Manfred Fitzgerald, Executive Vice President and Head of the Genesis Brand. "The Genesis Studio Hanam debuts the first of many diverse concepts for our brand spaces, so you can expect to see more exciting brand spaces to come in the near future."
Since opening in 2016, the Genesis Studio Hanam at the Starfield Hanam shopping complex in Seoul has attracted around 2 million visitors so far interested in learning more about the Genesis brand. It is the first of three studios located in Seoul and Sydney, Australia, that offer a one-stop, stress-free customer experience where brand experience, test drives and consultation are conveniently offered to each customer.
The Architizer A+Awards is the world's largest awards program celebrating the year's best architecture and building-products. Presented by Architizer, the world's leading online resource for architecture and building-products, Architizer A+ Awards honor the best architecture, spaces, and products from around the world. For this year's award presentation, Architizer accepted over 5,000 entries from over 100 countries, with a special emphasis on innovation in architectural materials and products. Over 400,000 votes were cast by the public to determine the winners.
CONTACTS
Genesis Media Center

Media Inquiries

South Korea