GENESIS GV80 CONCEPT AND G80 SPORT WIN 2017 GOOD DESIGN® AWARDS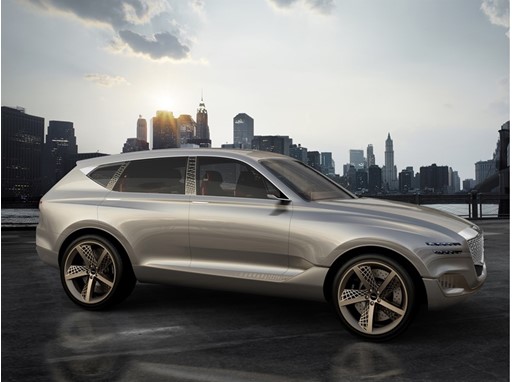 FOUNTAIN VALLEY, Calif., Dec. 21, 2017 – Earlier this month it was announced that the Genesis GV80 Concept SUV and G80 Sport mid-luxury sedan both won 2017 GOOD DESIGN® awards. Genesis joins other transportation, electronic, consumer and lifestyle product brands in receiving the annual awards from The Chicago Athenaeum Museum of Architecture and Design.
"We believe in the power of design to seduce and inspire the human spirit," said Erwin Raphael, General Manager of Genesis Motor America. "We're pleased that GOOD DESIGN® is a mainstay recognition going well into its seventh decade and couldn't be happier to accept their acknowledgement of our dedication to design."
The award, the oldest of its kind, was founded in 1950 by legendary designers, Eero Saarinen, Charles and Ray Eames, and by architecture historian and philanthropist, Edgar Kaufmann, Jr. This year's jury met in San Francisco and New York, selecting award-worthy products from 46 countries.
"The cars are a stunning achievement of high style, form, function and aesthetic," states Christian Narkiewicz-Laine, Museum President, GOOD DESIGN®.
The G80 3.3T Sport builds on the refined performance of the popular Genesis G80 and adds a 365-horsepower, 3.3-liter turbocharged V6 engine plus unique sport and performance upgrades delivering improved driving dynamics and agility. In addition, distinctive styling elements and features visually differentiate the new 3.3T Sport from the rest of the G80 model line-up.
The GV80 Concept is the brand's first interpretation of a versatile luxury SUV, which strikes a perfect balance between elegance and versatility. On the exterior, this is seen in the concept's confident posture and athletic prowess, while the spacious interior indulges passengers and immerses them in technology that connects them to the vehicle. Recognizing the brand's global impact, the GV80 Concept utilizes the latest plug-in hydrogen fuel cell electric technology to combine eco-performance and capability, all skillfully designed to fulfill the needs and explore the escapes of the urban adventurer.
Genesis Motor America
Genesis Motor America, headquartered in Fountain Valley, Calif., distributes, markets and services Genesis vehicles in the United States. Genesis is a global luxury automotive brand that delivers the highest standards of performance, design and innovation. A total of six new Genesis models will launch by 2021 and will compete with the world's most renowned luxury car brands. All Genesis vehicles sold in the U.S. are covered by an industry-leading warranty with enhanced roadside assistance and concierge services.
For more information on Genesis and its new definition of luxury, please visit
www.genesis.com
CONTACTS
Genesis Media Center

Media Inquiries

South Korea
MORE FROM LATEST GV80 CONCEPT NEWS
SUBSCRIBE TO RSS FEED
XML